At Guildford Dental Practice, we offer patients affordable orthodontic treatment (braces) to enable them to achieve a straight smile. This can make a big difference in every individual's social and professional life. Orthodontic treatment is a way of treating irregularities of teeth and faces by gently pushing teeth into correct alignment and positioning of individual teeth and the relationship of the teeth to each other and to the jawbone in which they are held. It is now a popular and effective treatment for adults. The orthodontic treatment will improve the appearance and functionality of the teeth and prevent tooth decay, gum disease, which can lead to tooth loss and headaches and facial and jaw pain. Your mouth will be healthier and teeth will be easier to clean.
We offer many options for orthodontic treatment. However our patients favour Smile Tru and Cfast. Click on the pages to find out more information.
Why should I have orthodontic treatment?
Many people have crowded or crooked teeth. Orthodontic treatment (braces) will straighten the teeth or move them into a better position. This can improve their appearance and the way the teeth bite together, while also making them easier to clean.
What age should I have orthodontic treatment?
At Guildford Dental Practice we offer affordable orthodontic treatment (braces)  for adults and children. Age is less important than having the right number of teeth. In children it may be necessary to wait for enough teeth to come through before starting treatment.
Orthodontic Consultation.
You will be asked to pay a deposit of £90.00 to receive a full examination to determine the suitable treatment option for you. This will usually involve looking at your teeth, taking x-rays and making plaster models of your teeth. Dr Kazem will then discuss what treatment is possible. Once you are sure you want to go ahead, the treatment can start as soon as possible, for children it will be when they have enough permanent teeth. Your deposit will then be deducted from the cost of your orthodontic treatment, should you decide to proceed.
What happens when the teeth are in the right position?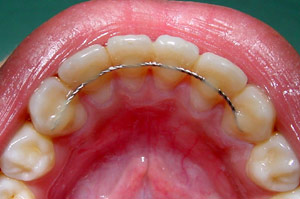 When treatment is finished the teeth need to be held in position for a time. This is called the 'retention' period, and the appliances that hold the teeth in place are called retainers.
The retainers hold newly straightened teeth in position while the surrounding gum and bone settles. The retainers are removable fixed behind your teeth using a thin wire and composite.
How many visits will it take?
Orthodontic braces usually need adjusting or replaced every 4 to 6 weeks. Dr Kazem will advise you when your brace will need adjusting.
Will it hurt?
All appliances may feel strange at first, and can cause discomfort. If the problem doesn't go away, Dr Kazem may be able to carry out adjustments to help. Teeth are usually uncomfortable immediately after a brace has been adjusted, but this will settle.
How do I care for my brace and teeth?
It is important to keep having your teeth checked while you are having orthodontic treatment. You also need to take extra care of your teeth and mouth:
Clean your teeth carefully every day, including between your teeth where you can. Braces are delicate and you need to make sure you clean them carefully so that they do not break. Your dental team will be able to show you the special techniques to use depending on the appliance you are wearing.
Cut down on how often you have sugary foods and drinks. Avoid snacks and drinks containing sugars, and fizzy drinks. Also, sticky and hard foods may damage your brace.
Brush your teeth last thing at night and at least one other time during the day. Use a mouthwash if you need to. Your dental team may recommend a stronger fluoride toothpaste, or perhaps a fluoride gel or mouthrinse, for you to use.
 Orthodontic treatment in Guildford Orthodontic treatment in surrey 
Cheap orthodontic treatment in guildford braces guildford braces surrey cheap braces guildford cheap braces surrey affordable orthodontic treatment orthodontic treatment in guildford